« Back to Events
Orange County VC Fast Pitch Conference
Thu, Nov 30 @ 10:00 am - 4:00 pm
The Beach at UC Irvine
5141 California Ave, suite 200
Pitch and network with venture capitalists, angels and accredited investors from Southern California, Silicon Valley and throughout the country at the Orange County VC Fast Pitch Conference.
Expert DOJO pitch promo code is    –  expertdojo

Black Dog Venture Partners has hosted investor conferences throughout the west and has raised millions of dollars for startups as a direct result of our fastpitch conferences.
Investor panelists and speakers include:
---
Scott Kelly, Black Dog Venture Partners
Scott Kelly Founder and CEO of Black Dog Venture Partners, is a 25-year fundraising, marketing, sales, training, and publicity veteran. Scott has raised millions of dollars in capital for disruptive companies, garnered national media coverage for hundreds of regional and national brands and generated millions of dollars in revenues for the companies he has represented. He has also trained over 1,000 salespeople and has taught marketing at the university level in the United States and Europe.
Michael Hool, Hool Coury Law
Michael Hool is our founding Partner and is a pioneer in the field of venture formation and financing in the Southwest and California. Michael works with select companies as an advisor, legal counsel and periodically serves in executive and board capacities. Michael practice is focused primarily on corporate and commercial representation, securities, finance and venture capital, mergers and acquisitions, corporate governance matters, and all aspects of counseling emerging companies. He represents both issuing companies and investors in a large variety of financing transactions. In the past fiscal reporting year, the firm has assisted entrepreneurs in over $187 million in funding transactions and has assisted funds to raise over $100 million for investment in emerging companies.
Michael represents or advises accelerators, incubators, and has formed three active angel investment groups, including ATIF (predecessor to AzTech Investors) and Canyon Angels. Michael has chaired or served on the board of Arizona Venture Capital Conference, BioAccel, AzTech Investors, Canyon Angels, and the Indus Entrepreneurs. Mr. Hool is currently active in formation of three separate seed stage investment funds. Mr. Hool is highly sought after as a speaker and author of papers on a broad variety of topics. Michael is also active as an investor in a growing portfolio of emerging companies.
Jordan Wahbeh, Managing Partner Bay Angels
Jordan partners with startups grow, scale, and focus on achieving their objectives through operations, fundraising, business development, product development, and team leadership. As an experienced leader, advisor, and mentor, he assists or leads in business operations, business development, org transformation, customer management, and team growth. He is a partner and executive director at Bay Angels, and has a small portfolio of companies he works with. Most recent is his work with VCs and Accelerators in Silicon Valley, Dubai, Jordan, Kuwait, and European groups
His 20+ years' experience includes hands-on work, and leadership in high-demand, fast-paced, or structured environments in engineering, business, SW development, IT, Hi-Tech, Big Data/Analytics, IoT, Smart Home, and manufacturing.
Beginning in 1998, the BayAngels have backed a long list of ventures, including Open Table, PhotoBucket, Zoom Systems, Z-Force, On Site Dental, and many others. Our style of angel investing has been emulated across the globe.
Founded by long-time investor Roger King, the BayAngels is now entering an accelerated phase of growth and expansion with the addition of Karim Nurani as our Executive Director.
From the beginning BayAngels has focused on investors in the dynamic San Francisco Bay area, especially the area comprised of Marin, Napa, and Sonoma counties. Many of our members belong to other angel groups and we often collaborate with them to support entrepreneurs.
Like other angel investor organizations, BayAngels is comprised primarily of former entrepreneurs. Our members understand the challenges and complexities of launching a new business. Our style of mentoring involvement begins with a thorough evaluation and due diligence process. Then we provide needed counseling during the critical launch phase. Many of our members continue providing consultation throughout the early years of a new businesses' growth to ensure its success. Our in-depth investing process increases the likelihood of success—for the company and our investors.
For newly established companies already showing significant progress, BayAngels provides the necessary funding to help them reach the next stage of their growth. Our investors have helped infuse dozens of early-stage companies with the capital necessary to accelerate their success.
Pete DeAngelis – The Cove Fund I Investment Committee & Tech Coast Angels member
Pete is a senior corporate executive with a proven ability to raise capital and guide technical organizations from start-up to profitability. A few of the companies he has founded or co-founded include Rokenbok Toy Company (1995), the segment starter in megapixel network cameras called IQinVision (2001) and a company focused on liquid cooling for high-performance computers called Chilldyne (2013). Pete is considered an expert in the following subject matter: financial modeling, intellectual property portfolio management, Asian business culture, fundraising, mergers and acquisitions and due diligence. His style is hands-on management and he emphasizes leadership by example, accountability, and accessibility. He is a member of the Investment Committee of The Cove Fund as well as an independent angel investor with the Tech Coast Angels.
Rana Gujral, Angel Investor
Rana Gujral is an Entrepreneur, Executive, and Investor. In 2014, he founded TiZE, a Cloud software for specialty chemicals, and held the role of CEO until his exit in 2016. He is currently leading Smart Home Initiatives at Logitech and an advisor to several startups. Rana is a contributing columnist at TechCrunch and Forbes and was awarded the 'Entrepreneur of the Month' by CIO Magazine and the 'US-China Pioneer' Award by IEIE 2017. He was listed among Top 10 Entrepreneurs to follow in 2017 by Huffington Post and is a sought-after international speaker. Rana has most recently been a featured speaker at the World Government Summit in Dubai, the Silicon Valley Smart Future Summit 2017, and IEIE 2017 in New York.
Prior to TiZE, Rana was recruited to be a part of the core turnaround team for Cricut Inc. At Cricut, Rana led the initiative to build a first of its kind, innovative product for the DIY community and prompted the turnaround of Cricut's EBITDA position from bankruptcy to profitability within a span of 2 years. Previously, Rana held leadership positions at Logitech S.A. and Kronos Inc., where he was responsible for the development of best-in-class products generating billions in revenue and contributed towards several award-winning engineering innovations.
Rana has earned a variety of personal and product awards and has been featured in TechCrunch, Forbes, Inc magazine, Huffington Post, Fast Company, NBC, Fox and CBS.
Bill Carpou, CEO OCTANe
Bill has held many key positions at technology companies such as Xerox and IKON, and created distribution channels and customer solutions for products manufactured by Canon, Ricoh, and H-P. Both companies also provided an opportunity for Bill to lead distressed operations back to profitability and interact with investors, including several Wall Street investment banks. Additionally, he led several acquisitions and the creation of strategic partnerships. Bill was with Merrill Lynch earlier in his career, and more recently, held an executive position within The Blackstone Group, one of the leading global private equity firms. In that role Bill led the successful growth and transformation of a key portfolio company. He has broad sales and marketing experience and during 2014, worked with several startups to provide advisory services focused to revenue growth, and increasing both profitability and overall enterprise value.
Charles Huang – Angel Investor
Charles Huang has spent the entirety of his nearly 20-year career in the healthcare industry, with a particular focus on investing, financing, strategy, operations, and innovation. He currently is the Managing Partner of the Launchpad/Ventures team at Adaptive Health Capital, a recently launched investment fund based in Santa Monica, CA. Previously he was the founder/CEO of Lynchpin Technologies, a software technology company working with payors and employers to improve member health engagement and behavior. Prior to founding Lynchpin, Charles was a VP at Blackstone in their Global Portfolio Operations group based in New York City, and CFO of the Blackstone Equity Healthcare team. Before Blackstone, he was an early stage VC at Spark Capital in Boston focused on health/technology startups and an Entrepreneur-in-Residence at Highland Capital Partners, a Boston based venture fund. He also has worked in the Strategic Financial Planning department of Harvard Pilgrim Health Care (during which time HPHC was recognized as the #1 Commercial health plan in America according to NCQA for ten consecutive years) and he began his professional career as a Health & Welfare consultant at Towers Perrin in the Boston office.
He is an advisor, angel investor, board member and/or collaborator in companies and organizations dedicated to health innovation such as Blueprint Health, Health Evolution Summit, Startup Health, TEDMED, Artemis Health, CredSimple, Greatist, Health Connections, Imperative, Life Assist Technologies, Luminary Labs, Refresh, Sonavex, and UniteOR. He also has co-authored several Harvard Business School cases and notes on health technology, innovation, and policy. He is a frequent speaker, moderator, and panelist for a variety of health/technology conferences and innovation events across the country.
Charles received his BA in Public Health from Johns Hopkins, and earned an MBA from Harvard Business School and an MPA from Harvard Kennedy School of Government. He currently resides in Los Angeles with his wife Christine and daughter Sophia, but can often be found at 30,000 feet on a plane between the coasts. In his downtime, he enjoys spending time with family and friends, working out at the gym by dabbling in CrossFit or trying out various boot camps, and/or watching and playing soccer.
Todd Belfer, Managing Partner Canal Partners
Todd Belfer is Managing Partner of Canal Partners. In this role Mr. Belfer is responsible for all aspects of the company including identification of potential acquisition targets, due diligence, financial analysis and final investment decision making.
Mr. Belfer has a long history of entrepreneurship and has been involved with a wide range of businesses throughout his career. In 1990 he co-founded Employee Solutions, Inc., a professional employer organization which he helped take public in 1993 and which was the highest performing stock on the NASDAQ in 1996. He also co-founded a leading sports nutrition company M.D. Labs in 1993 and after realizing triple-digit growth sold his interest to a private equity firm in 2002. He was a founder of the successful Japanese restaurant chain RA, which has grown to more than 30 locations throughout the United States and which was sold to Benihana in 2002. In 2002 Mr. Belfer founded NETtime Solutions, a Software as a Service (SaaS) organization dedicated to delivering on-demand time and attendance service, where he remains as chairman.
Mr. Belfer has been a dedicated volunteer with Big Brothers and Big Sisters for over 10 years. Nationally, he is recognized for his work with The American Israel Public Affairs Committee (AIPAC) and received the prestigious Regional Wings of Memory Society "Excellence in Leadership Award" presented by the United States Holocaust Museum in April 2006 for his ongoing support and dedication to the Holocaust Museum and its efforts. He is also a board member of the Make-a-Wish Foundation.
Mr. Belfer has a bachelor's degree in finance and a real estate degree from the University of Arizona.
Kelly Perdew – Managing Partner – DuMont Project, Moonshots Capital, Entrepreneur, Winner Apprentice 2 and Father of Stepson & Twins
Perdew has been angel investing since 2004, run a syndicate with his partner, Craig Cummings, deploying over $8.5M into 27 companies since 2014, and is now a managing partner at a $40M committed fund – Moonshots Capital Fund 1.
Perdew has held founder/senior executive operating roles in nine companies and his notable investments include: LinkedIn, Pandora, TrueCar, Active Networks, ID.me, Scopely, Fair, CrossChx, RideScout, Harvest.ai, Ustream, Klout and Fitmob.
Perdew earned a BS from the US Military Academy, West Point and served in the US Army as a Military Intelligence Officer and completed Airborne and Ranger training. He earned his JD/MBA degrees from UCLA .
In 2005, Perdew won Season 2 – The Apprentice – and worked directly for President Donald Trump in NY on multiple projects. He lives in Los Angeles with his wife, Dawn, and 7-year-old twins – Grant and Grace.
MANY MORE INVESTOR PANELISTS TO BE ANNOUNCED
Testimonials from past conferences: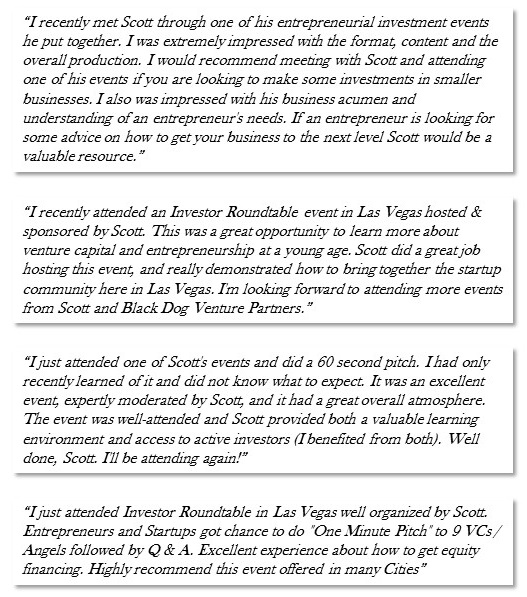 This event will sell out so register today!
+ GOOGLE CALENDAR
+ ICAL EXPORT